Feel like there's a rock in your foot?
Have you or someone you know ever experienced a pinched nerve between your toes that can be painful, has a burning sensation, tingling, or numbness? This is referred to as a neuroma. The main sympton people experience with neuromas is pain between the toes while walking. It is actually a small growth of nerve tissue that is generally located between the third and fourth toes. Some describe the pain to be similar with having a stone in the bottom of their shoe.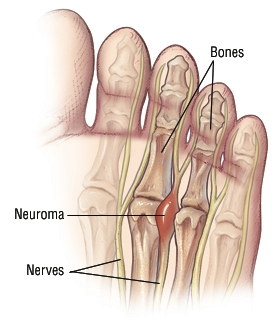 The definitive cause is still unclear, but there are some common causes they believe contribute to neuromas developing.
Biochemical deformities, such as flatfoot or a high-arched foot
Trauma to that area of the foot that can bring damage to the nerve
Improper footwear that causes toes to be squeezed together too tight
Symptoms of a neuroma are:
Pain the forefoot and between the toes
Tingling and numbness in the ball of foot
Swelling between the toes
It's best to see a podiatrist as soon as you notice something wrong in your foot. As always, you can call us at (615)220-8788 or schedule an appointmetn at www.neufoot.com.
Category: General
Labels:
There are no comments.
Post a comment
Post a Comment to "Do you have the feeling there's a rock in your foot?"
To reply to this message, enter your reply in the box labeled "Message", hit "Post Message."